Bowmanville Electricians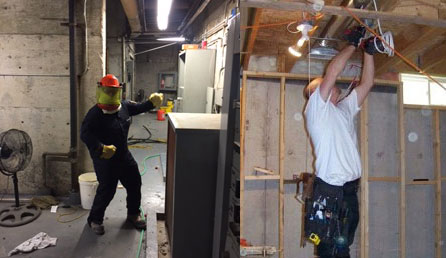 At Emmons Electric Inc., we are professional Electricians in Bowmanville, ON.
We do more than just Electrical Work
In addition to offering traditional electrical services and maintenance, we also offer a variety of other related services. Here are some of the additional services that we offer:
New construction, renovations, and additions
Rough-in and finishing work
Pools and Hot tub installation
Panel upgrades / Panel Changes
Pot lights and energy efficient lighting
Hot Tub Electric Installation
Knob and tube replacement
Electrical Wiring
Electrical Installation
Bowmanville Residential Electrician
Bowmanville Licensed Electrician
Whether you are building a house from scratch or adding an addition for your home, Emmons Electric Bowmanville will be there to aid you in determining exactly what you need. From one room additions to four story apartments Emmons Electric Bowmanville's attention to detail will leave you with a finished product you can be proud of. We also do home inspections, installation of recessed cans, and electrical troubleshooting.

For more information about our Electricians in Bowmanville, please continue to browse the rest of our website.

Call for a Consultation or Estimate Today (289) 314-5152
Our Services
Residential Electrician in Bowmanville, ON / Bowmanville Licensed Electrician
Emmons Electric Inc. is a proven and time tested electrician with almost 20 years experience, we are a company you can depend on for your home. We are also fully insured and certified for all your residential electrical needs.
Commercial and Industrial
Each of our electricians is fully trained in installation techniques and codes to ensure a safe and trouble-free installation. We want to make sure that you receive the best possible installation and products
Energy-efficient lighting
Emmons Electric has a vast menu of services including innovative design and expert installation of a wide variety of exterior lighting fixtures.