Experienced, Professional, and Reliable Whitby Electricians at Emmons Electric Inc.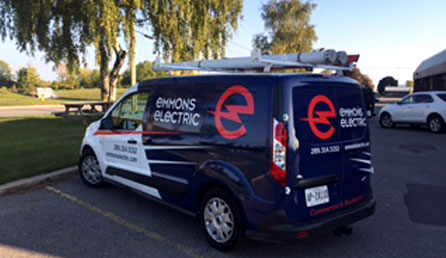 Of all the renovation and maintenance projects that you could do as a homeowner or business owner, electrical work is one that is best left to the professionals at Emmons Electric. It is simply not worth the risk, especially considering that most people know very little about electrical work and the safety standards. If you are in the market for Whitby electricians, Emmons Electric Inc. is your best option.
About Emmons Electric Inc.
Emmons Electric Inc. is a proven and time tested electrical contractor. The company was founded by Master electrician Brad Emmons, and with almost 20 years of experience as an electrician in Whitby and the surrounding area, Brad and his team have what it takes to get the job done. We are certified, insured, and have the skills and experience to take on all types of residential, commercial and industrial electrical work.
Safety is Vital
Wiring can be very dangerous. This is why it is so important to leave all electrical and wiring work to professional Whitby electricians like Emmons Electric Inc. If you don't know what you are doing you could seriously injure yourself, start a fire, and endanger others. Plus, when you hire professional electricians, like us, you can take peace of mind in knowing that the job was done right the first time.
We do more than just Electrical Work
In addition to offering traditional electrical services and maintenance, we also offer a variety of other related services. Here are some of the additional services that we offer:
New construction, renovations, and additions
Rough-in and finishing work
Pools and Hot tub installation
Panel upgrades / Panel Changes
Pot lights and energy efficient lighting
Hot Tub Electric Installation
Knob and tube replacement
Electrical Wiring
Electrical Installation
Whitby Residential Electrician
Whitby Licensed Electrician
We offer 24 hour service
Why Hire us for the Job?
We are your best options when it comes to Whitby electricians. Our years of experience, professional team and dedication to high quality results are all reasons why people choose us to handle all of their electrical work. People choose us as their preferred electrician because:
Looking for Whitby Electricians? Contact Emmons Electric Today
If you have electrical work that needs to be completed and are looking for Whitby electricians you can trust will get the job done right, give Emmons Electric Inc. a call to set up a consultation or get an estimate for your project.
Call for a Consultation or Estimate Today (289) 314-5152
Our Services
Residential Electrician in Whitby, ON / Whitby Licensed Electrician
Emmons Electric Inc. is a proven and time tested electrician with almost 20 years experience, we are a company you can depend on for your home. We are also fully insured and certified for all your residential electrical needs.
Commercial and Industrial
Each of our electricians is fully trained in installation techniques and codes to ensure a safe and trouble-free installation. We want to make sure that you receive the best possible installation and products
Energy-efficient lighting
Emmons Electric has a vast menu of services including innovative design and expert installation of a wide variety of exterior lighting fixtures.